We are pleased to present our new Sustainability Report - focusing on our commitment to value creation through sustainable business practices.
We believe access to affordable, delicious and healthy seafood is of paramount importance in a resource scarce world where the population is growing and where 2 billion people lack the nutrients they need to live a healthy life.
- Klaus B. Nielsen, CEO
The report demonstrates how we act and perform on sustainability within our four focus areas: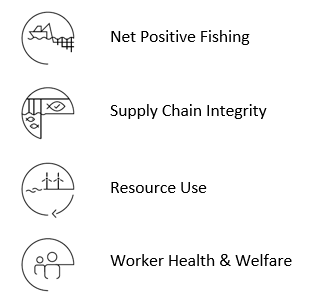 Key Actions and Achievements in 2016:
We increased the amount of fish used for human consumption by almost 5% during 2016. We now use nearly 75% of the fish for human consumption (the goal is to reach 90% by 2022).

We took lead on a project seeking to develop innovative trawling gear in order to protect the seabed (read more here)

We initiated a successful project aiming to protect the marine environment in new ice-free ocean zones, in the Northeast Atlantic (read more here)
To access the full report click here.
If you have any questions regarding our sustainability report or in regards to sustainability & Espersen in general, please do not hesitate to contact Alex Olsen, Head of Sustainability (Alex.Olsen@espersen.com).
Our journey towards sustainability never ends. We can always learn and improve - and we will!